One of the most unexpected buzz generators at the AcademyHealth National Health Policy Conference came out of the smartphones of Robert Wood Johnson Foundation (RWJF) Clinical Scholars who were in attendance. Arriving on the first evening of the conference, the emails said the long-running program would be shut down by 2017 as part of a sweeping RWJF reorganization.
In both a
video
and
text statement
on the RWJF website, President and CEO Risa Lavizzo-Mourey, herself a former RWJF Clinical Scholar, said the move was the result of a year-long
Hoag Levins is a journalist and Managing Editor of Digital Publications at the University of Pennsylvania's Leonard Davis Institute of Health Economics.
analysis and strategic planning process that concluded the Foundation should move in a "bold new direction."
"After 40 years of running leadership and scholarship programs, it's time to pause and determine how to best to expand our leadership network, " she said. "Technology has revolutionized how we learn and connect. The Foundation must embrace and take advantage of these new opportunities. This means change and change is rarely easy."
The partial details she released indicate the changes within RWJF, the country's largest philanthropic funder of health-related research, education and advocacy, are massive and far reaching. The foundation, which reports $9.5 billion in assets, annually distributes nearly $400 million in support of a broad array of activities including the Clinical Scholars programs at the University of Pennsylvania; Yale University; the University of California, Los Angeles; and the University of Michigan.
Training elite physician leaders
Established nearly forty years ago, the Clinical Scholars program is designed to produce an elite cadre of health care leaders. Carefully chosen post-resident physicians with a bent for health services research are provided two years of protected research time along with intensive professionalism and leadership training. RWJF has previously said the program was designed to "foster the development of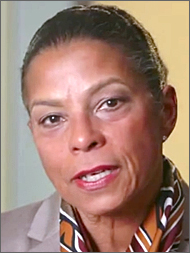 Risa Lavizzo-Mourey, MD, MBA, a former University of Pennsylvania Professor of Medicine and Health Care Systems, is the President and CEO of the Robert Wood Johnson Foundation. She announced that RWJF is headed in a "bold new direction."
physicians who are equipped to lead the transformation of U.S. health and health care through positions in academic medicine, public health, and other leadership roles."
Along with those Clinical Scholars programs in four universities, nine other national "RWJF Human Capital" programs will be terminated: Health & Society Scholars, Scholars in Health Policy Research, Executive Nurse Fellows, Investigator Awards in Health Policy Research, Nurse Faculty Scholars, the Center for Health Policy at Meharry Medical College, the Center for Health Policy at the University of New Mexico, and the Nursing and Health Policy Collaborative at the University of New Mexico.
Toward 'A culture of health'
Lavizzo-Mourey's statement said the current and evolving health-related landscape of the United States "demands new approaches," and "as we look to the future, our goal is to create a culture of health... We intend to do all we can to build demand for healthy options, healthy places, and health-focused policies... and reach and help many more individuals."
"We need doctors and nurses who not only collaborate with each other," she continued, "but are willing to work with public health practitioners, community leaders, business leaders and policy makers."
To some, it appeared that instead of programs that train small numbers of professionals for leadership positions at the top of the medical establishment, RWJF is shifting to support large numbers of health care professionals focused on the social determinants of health at the local community level. Its published materials reflect an organizational belief that a truly healthier nation would inherently require less health care spending and that the only way to achieve that is
David Asch, MD, MBA, is the Director of the University of Pennsylvania's Robert Wood Johnson Foundation Clinical Scholars program and the Executive Director of the Penn Medicine Center for Health Care Innovation.
to address the complex realities that lead to poor health across the entire socioeconomic spectrum of the U.S. population.
Future direction unclear
David Asch, who currently directs the University of Pennsylvania RWJF Clinical Scholars program, noted that the underlying meaning is not so clearly directed at increasing impact on health's social determinants. He pointed out that the Foundation "ended ten of their human capital programs, including the Health & Society Scholars program that was fundamentally about producing intellectual leadership to move forward the concept that health is socially determined."
Asch, a Professor of both Medicine at Penn's Perelman School of Medicine and Health Care Management at the Wharton School, said it was difficult to comment on RWJF's announcement because "not much is known about what concrete elements are planned to replace these programs. I clearly mourn the loss of what was, but my reaction to that loss depends critically on what happens in the future and, at the moment, that's a mystery."
NHPC session on RWJF vision
Providing additional insights on the subject of RWJF's future vision was Mark McClellan who delivered a plenary presentation on the second day of the AcademyHealth Conference entitled "What Will It Really Take to Improve the Nation's Health? The RWJF Commission to Build a Healthier America."
McClellan, the former Administrator of the Centers for Medicare & Medicaid Services (CMS) and currently a Senior Fellow at the Brookings Institute, is also Co-Chair of the RWJF Commission that has just issued the new report, "Time to Act: Investing in the Health of Our Children and Communities."
"The thing to emphasize in this report is just how important the health care system has become to population health," McClellan said, "not because of medical treatments or access to insurance, but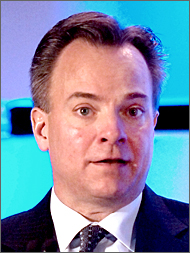 Mark McClellan, MD, PhD, is a Senior Fellow at the Brookings Institution and Co-chair of the Robert Wood Johnson Foundation Commission to Build a Healthier America. He is the former Administrator of the Centers for Medicare & Medicaid, and a former Commissioner of the U.S. Food and Drug Administration. He called for a "seismic shift" in the U.S. health care system.
because of the opportunities of health professionals and those involved in health care organizations to have a non-medical influence on health."
"We spend far more than any other nation on earth in both gross amount and per-capita on health care," McClellan said, "and yet in terms of the most important health measures related to the quality of life and the burdens of serious illness, we do significantly worse than most other countries. This goes all the way down to infant mortality rates and all the way up through cardiovascular disease."
Determinants of health
"The determinants of population health are the reason for those levels of premature death," he continued. "Things that really do have an impact on mortality rates are smoking, obesity and inactivity. This is why the Robert Wood Johnson Foundation is highlighting how important these non-medical influences are."
McClellan said the commission has a vision for change in three broad areas:
Prioritizing investment in America's youngest children with a new emphasis on educational support and child development. "The most bang for the buck with the highest chances for achieving fast improvements are with America's youngest children, with particular emphasis on low-income children under age 5," he said.
Revitalization of neighborhoods because "people can make healthier choices if they live in neighborhoods that are safe, free from violence, and designed to promote health."
Broadening the mindset, mission and incentives for health professionals and health care institutions. McClellan said they must expand to go beyond treating illness and traditional kinds of preventive service activities and do more to help people lead healthy lives.
Health Leads program as example
He pointed to the "Health Leads" program, which is now operational in hospital wards, emergency departments and community clinics in six states, as an example of the new mode of health care RWJF favors.
Originally founded by a Harvard law student and later funded in its expansion by RWJF, Health Leads integrates a staff of trained university student volunteers into clinical settings heavily trafficked by low-income patients. Operating as an integral part of the clinical team and electronic medical record system, those volunteers assist patients and their families in finding and utilizing various sorts of resources deemed essential to their health and well-being. These include things like food, utilities, transportation, school-related supports, legal services to address housing safety violations, and jobs and various other social services.
'Seismic shift'
"We have a very clear call," McClellan told the AcademyHealth audience, "for health care organizations to find and act on the opportunity to directly address the major determinants of health in families and communities... We need a seismic shift in how we approach health and the actions we take to help improve health."
~ ~ ~
blog comments powered by