Three of the University of Pennsylvania's health-related research centers have teamed up to launch an innovative grant program designed to lure academic investigators out of their insular comfort zones into large scale interdisciplinary research projects.
The three -- Penn's
Center for Clinical Epidemiology and Biostatistics
(CCEB),
Leonard Davis Institute of Health Economics
(LDI) and
Center for Public Health Initiatives
(CPHI) -- are offering a novel funding structure
Alternative content
Harold Feldman, MD, MSCE, Director of Penn's Center for Clinical Epidemiology and Biostatistics, is also a Professor of Medicine and Epidemiology at Penn's Perelman School of Medicine. CCEB is the Penn's primary center of epidemiological and biostatistical research with more than 80 faculty members, 200 researchers and staffers and 150 graduate students.
Alternative content
Dan Polsky, PhD, MPP, Executive Director of Penn's Leonard Davis Institute of Health Economics, is also a Professor of Health Care Management at the Wharton School and Professor of Medicine at the Perelman School of Medicine. LDI is Penn's hub of academic health services research with more than 200 Senior Fellows and fellows investigating how U.S. health care is organized, financed, managed and delivered.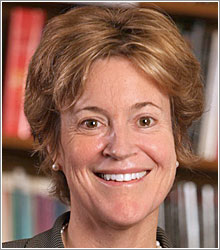 Alternative content
Jennifer Pinto-Martin, PhD, MPH, Director of Penn's Center for Public Health Initiatives is also a Professor in Penn's School of Nursing and Chair of the Department of Biobehavioral Health Sciences. CPHI is the home of Penn's multi-disciplinary Master-in-Public-Health degree program.
they hope will pull together researchers from a variety of disciplines to focus on "big ideas" related to improving the health of populations.
"We talk about 'integration of knowledge' a lot and I and the other center directors believe it's incredibly important to solving current health problems," said Jennifer Pinto-Martin, Executive Director of CPHI. "But it's actually really hard to do on Penn's campus because of the way grants flow and because of how faculty time is counted, allocated and controlled. What the three centers want to do is provide a platform that really allows investigators to collaborate in ways they might not otherwise be able to do."
Research 'incubator'
The overall annual program will operate something like an in-house research "incubator" for interdisciplinary projects. Initially, the centers are offering up to $25,000 each to teams of investigators to organize a seminar bringing together experts to brainstorm a particular problem and identify the most fertile areas of further study. A follow-up funding phase would provide up to $50,000 for focused research. The ultimate goal would be to greatly enhance the likelihood that successful research team projects would then qualify for a third phase of sustainable, extramural funding.
The winning teams must include collaborators from different disciplines as well as a mix of senior and junior investigators. The deadline for the inaugural round of proposals is March 1.
'Overly siloed'
"We have probably been overly siloed over the years, particularly in our public health, health services and epidemiology spaces," said Harold Feldman, Director of CCEB. "Today, changes in the health care arena and environment are stimulating new ways to configure research teams and motivate their members. I think people are realizing in general that there is a need to find more efficient approaches to moving scientific discovery through the pipeline of discovery, evaluation, validation and implementation and that connecting scientists in different disciplines to one another is an effective way of doing that."
A major goal of LDI's participation in the project said Executive Director Dan Polsky is to "create links to other research groups within the University in projects whose whole is greater than the sum of their parts."
University hubs
"Our three centers have long been hubs of intellectual thinking about improving the health of populations," said Polsky. "But while we are all interdisciplinary in our style of research, more can be done to bring together LDI's primary discipline of health economics, with CCEB's epidemiology and biostatistics, and CPHI's framework of public health."
At the same time, Polsky acknowledges that convincing faculty researchers to join interdisciplinary teams is a challenge. "I don't think it's natural or easy for many people to step out of traditional ways of doing things. I think the willingness to take this leap will be driven by the power and pull of a big idea that can obviously ONLY be solved by groups from different disciplines working together."
Greater social impact
"Consider the big objective of tackling obesity," Polsky continued. "There's a lot of innovative work using behavioral economics to change health behaviors. In public health there is exciting research to remedy the impact of the built environment on obesity. Epidemiology has been central to understanding the epidemic, its risk factors, and the burden of the illness. At Penn we can do more to harmonize these approaches and ultimately achieve a greater social impact with our research."
Some of the "big ideas" the three center directors mention as examples of likely interdisciplinary research targets are obesity, smoking cessation, adherence, cardiovascular disease, disparities and the economics and ethics of rapidly advancing genetic treatments.
On a broader scale in recent years, the University itself has been promoting the idea of interdisciplinarity across all academic areas. For instance, a central theme of President Amy Gutman's 2020 Compact declares, "The most challenging questions and problems of our time cannot be addressed by one discipline or profession. To comprehend our complex world, we must better integrate the knowledge and tools from different disciplines and professional perspectives in our research and teaching."
'Get out of our little boxes'
CPHI's Pinto-Martin ultimately sees the rising desire for more interdisciplinary work evolving into more of a requirement at Penn. "I think we're talking about interdisciplinarity as a consideration for promotion and tenure. I think it's something that the Provost cares about; that the University cares about; and that funding agencies care about -- and will be caring about even more as we move forward. Clearly, there's a recognition that it's the way of the future and that we all have to get out of our little boxes and work across disciplines more fluidly."
~ ~ ~

Hoag Levins is a journalist and editor of digital publications at the Leonard Davis Institute of Health Economics.
blog comments powered by