PHILADELPHIA -- The lucrative joint ventures of physicians and medical device manufacturers got a reprieve from intense public scrutiny last month, but it's only temporary. The Centers for Medicare and Medicaid Services put off promulgating rules for the new Physician Payment Sunshine Act until Jan. 1, 2013 -- a respite unlikely to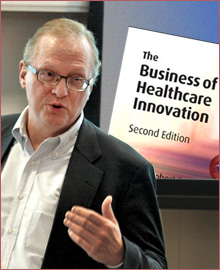 Photo: Hoag Levins
Alternative content
Lawton Burns, chair of the Health Care Management Department at the University of Pennsylvania's Wharton School, is the editor of "The Business of Healthcare Innovation." The new second edition of that 2005 book is due out in July.
alter the dramatic effects the law may have on a sector that has been a lightning rod for controversies about ethics and money.
Financial disclosure
The sunshine measure requires device and drug manufacturers to collect and report detailed data about all transfers of value between the company and physicians as well as those physicians' immediate family members. As currently written, the provision, which is part of the Affordable Care Act, would apply to all transactions worth more than $10. Included among the reportables are any investments or ownership interests that physicians or their immediate family members have in the company. Failure to comply carries a penalty of up to $1 million.
The original architects of the law, U.S. Senators Herb Kohl (D-Wisc.) and Charles Grassley (R-Iowa) have emphasized that the goal is not to outlaw payments to physicians per se but rather to "make the information available for everyone to see, and let people make their own judgments about what the relationships mean or don't mean."
Impeding innovation
What it means to Lawton Burns, a University of Pennsylvania professor and healthcare innovation expert, is that device makers and the surgeons who define what new inventions are needed may drift apart in ways that seriously impede overall innovation.
Speaking at the recent "Innovations in Healthcare" seminar at an Alumni-Faculty Exchange event organized by Penn's Leonard Davis
Related Items
Controversy, Learning, and Future Directions
Weakens Medical Device Conflict-of-Interest Rules
Physicians Hold 20% of All Patents
Disclosure Requirements Expanded
Emory Study Details Payments to Implant Surgeons
Prohibits Medical Device Company Payments to Professors
Half The Experts Writing Guidelines Have Deals With Device Makers
New England Journal of Medicine
Institute of Health Economics, Burns said, "Two things are required for innovation and change. One is time and the other is money. Government scrutiny of these conflicts of interest threatens to choke off some of the money."
Burns, who chairs the Health Care Management Department at Penn's Wharton School, is the editor of "The Business of Healthcare Innovation," a Cambridge University Press book first published in 2005. The second edition, scheduled for publication in July, takes an in-depth look at medical device innovation issues around the globe. Burns is also collaborating with Stefanos Zenios, PhD, of Stanford, on a study of the changing dynamics in the medical device field.
The role of surgeons
"What most people don't understand is that physicians are central to the medical device process," he said. "Surgeons in particular are incredibly important in just identifying the unmet clinical needs."
"Unfortunately," said Burns, "there are some inconvenient truths about these relationships. For one thing, I don't think even the government understands that these conflicts of interest are not widespread. Less than 15% of surgeons have an economic relationship with a manufacturer. So, 85% of those who are operating don't have such ties in the first place. We're talking about a limited number of surgeons."
He noted that the new Sunshine law, changes in the FDA's premarket notification rules, and recent high-profile Justice Department conflict-of-interest investigations are creating an atmosphere in which physicians feel "tainted" by engaging in virtually any interaction with device makers.
'Hawking the product'
"The conflicts of interest that are most often being pointed to are those of surgeons out there in post-market relationships hawking the product, talking it up to their colleagues," he said. "There are very few conflicts that exist in the early stage when surgeons are just identifying unmet clinical needs." But government and press scrutiny has portrayed the entire process in a negative light, he said.

In addition to those issues, Burns pointed out that the traditional "love triangle" of relationships between device makers, doctors and hospitals was rapidly changing in ways that affect the pace and nature of medical device development.
"In the old days," he said, "you had a hospital purchasing products from a medical device company that had a very strong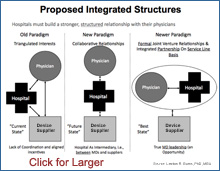 The traditional relationships between surgeons, hospitals and medical device makers are undergoing major changes, says Lawton Burns. See new paradigm chart.
relationship with the hospital's orthopedic surgeon. There was a lot of monetary and non-monetary support provided to the physician by the manufacturer. The patient had absolutely no say in the device selection process. There was a tug of war between the hospital and manufacturer for the physician's affection and loyalty -- with the manufacturer ultimately having more to offer."
Changing 'love triangles'
But today, as a result of movement toward accountable care and bundled payment systems, the "love triangle" is changing in ways that are weakening the manufacturer-surgeon link.
"Because of government oversight, some of the monetary exchange between surgeons and device companies has been weeded out," said Burns. "Changing financial incentives reward surgeons for using fewer products; some relationships include gain sharing between surgeon and hospital, with both splitting whatever is saved from reducing the cost of care. Surgeons have weaker ties with manufacturers and less time to be involved in new product development."
"So now we have these two parties -- surgeon and hospital -- trying to gang up on the supplier," said Burns. "That's how the love triangle has changed."
"The question is what does that mean for innovation?" he continued. "There are concerns that hospitals will increasingly work to develop relationships with surgeons" that will further disrupt the traditional partnerships that have played such an important role in the medical device business.
~ ~ ~

Hoag Levins is the managing editor of the LDI Health Economist eMagazine.
blog comments powered by