The first panel of the Penn-Wharton Public Policy Initiative Washington conference was made up of experts on the subject of the Affordable Care Act's health insurance exchanges.

Click images for larger.
As the Affordable Care Act's exchanges move toward the November 15 start of their second round of open enrollment, health policy researchers gathered at a University of Pennsylvania seminar in Washington, D.C., to discuss the insurance marketplaces' current challenges.
Three of the biggest issues identified by top academic, government and insurance experts meeting in the Willard Hotel were the exchange websites' distorted emphasis on price, lack of meaningful comparative tools, and decision architecture laced with industry concepts and terminology that even highly educated consumers do not understand.
The one-day conference was organized by the Penn-Wharton Public Policy Initiative (PPI) and Penn's Leonard Davis Institute of Health Economics (LDI). It was the latest of several recent PPI events that mark Penn's increased presence in Washington. The goal of the Initiative, which has established a D.C. office, is to make the expertise and insights of faculty members more directly available to policymakers.
Hosted by Dan Polsky, PhD, Wharton School Professor of Health Care Management and LDI Executive Director, "Health Care Reform 2015: What the Research Tells Us," brought together the latest academic and industry study insight and results from ongoing analyses of ACA marketplace operations and policies.
PRICE EMPHASIS
Throughout the first year of their promotion and marketing, the four price-differentiated tiers of plans -- bronze, silver, gold and platinum -- were heavily touted for their basic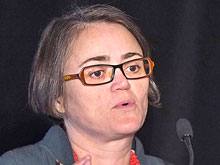 Alternative content
Heather Howard, JD, is the Program Director of the Robert Wood Johnson Foundation's State Health Reform Assistance Network, a lecturer at Princeton University's Woodrow Wilson School of Public Affairs, and the former Commissioner of the New Jersey Department of Health and Senior Services. She moderated the PPI panel.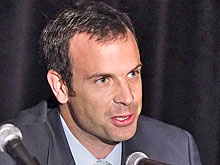 Alternative content
Jonathan Kolstad, PhD, is an Assistant Professor of Health Care Management at the University of Pennsylvania's Wharton School, and a Senior Fellow at the Leonard Davis Institute of Health Economics (LDI). He has extensively studied health insurance exchanges.
Alternative content
Amanda Starc, PhD, is an Assistant Professor of Health Care Management at the University of Pennsylvania's Wharton School, and a Senior Fellow at the Leonard Davis Institute of Health Economics (LDI). She has extensively studied health insurance exchanges.
Alternative content
Dan Mendelson is the CEO of Avalere Health, a consultancy that provides strategic advise and support to life sciences clients and is heavily involved in insurance exchange reseach. He is a former Associate Director for Health at the White House Office of Management and Budget and currently a lecturer at Penn's Wharton School.
Alternative content
Mila Kofman, JD, is the Executive Director of the DC Health Benefit Exchange Authority and the former Superintendent of Insurance in Maine. She is a former faculty member of the Georgetown University Health Policy Institute.
cost rather than the details of their actual benefits -- or lack thereof.
Panelist Amanda Starc, PhD, of Wharton's Health Care Management Department, who has extensively studied the eight-year-old Massachusetts health insurance exchange, said the tendency of many early exchange consumers is to "just gravitate toward the cheapest plan."
Avalere Health CEO Dan Mendelson, who is also a health care management lecturer at The Wharton School, confirmed this as a continuing trend of the first year of the new exchanges. He said his consultancy firm's study of the ACA marketplaces found that "most people didn't even look past the premium" and that 75% of them bought the silver or bronze plans that anchor the least expensive lists of plan offerings.
A central aspiration of the Affordable Care Act is that market pressures created by informed consumer choice will create competition that ultimately drive costs down and the quality of insurance products up. This assumes that each year exchange consumers will compare the new crop of available plans and carefully select the one whose cost and benefit mix best fit their exact needs.
DECISION SUPPORT SYSTEMS
Panelists agreed that much more sophisticated decision support features are needed on the exchange websites to makes the comparison of plans more intuitive and meaningful to insurance consumers. Jonathan Kolstad, PhD, of Wharton Health Care Management, said that when web structure focuses shoppers so tightly on premiums alone, "it's just helping the consumer get to the wrong answer faster."
And the consequences of this can be serious. As an example, Mendelson pointed out that large numbers of consumers don't understand the importance of the various plan's co-pay requirements. "They don't realize that until they get to the pharmacy," he said.
A recent in-house Avalere study analyzed the behavior of insured cancer patients who had been prescribed oral oncolytics -- or biologic cancer drugs taken by mouth. Six percent of those who learned at point-of-sale that they had a co-pay of under $100 abandoned their purchase and went away without their cancer drugs. The abandonment rate went to 24% for those confronted with co-pays above $500.
"When you look at these exchange designs," Mendelson said, "virtually all of them have a specialty tier where they'll put biologics or, in many cases, any drug that costs more than $500. I think it is important for all of us to be thinking about what happens to those patients who abandon the purchase of their drugs."
More sophisticated decision support systems would enable a exchange shoppers to search for plans with benefits relevant to their own situation. For instance, they could enter the drugs they take and have the system respond with a list of plans that either completely cover or have the lowest co-pays for those pharmaceuticals.
Panelists note that California is probably the state making the most headway in this kind of function but nationwide, such decision support tools are "years away."
Mendelson emphasized that new concepts of web-based decision supports had to be direct and simple. He cited a Medicare Advantage shopping website that popped a "big red screen saying 'This is a low quality plan'" when a shopper tried to enroll in certain low tier products.
At the same time, Mendelson cited the inherent buyer-seller tension that plays a big role in determining what kinds of consumer support functions might be viable.
"If you actually use algorithms to channel people into the 'right plan' for them, that affects underwriting," Mendelson said. "And I think one of the reasons why we don't have that now is because it will tend to channel patients into the plans that are the most generous for the sickest patients. And you need to design these things in such a way that incentivizes insurance companies. So, it's hard. You face design decisions where the interests of the consumer might not ultimately result in a viable product for the insurance companies."
WIDESPREAD INSURANCE ILLITERACY
Panelists concurred that the first year of state marketplace operations clearly demonstrated a widespread lack of consumer knowledge about the most basic concepts and terminology of the insurance industry. Initially, it was assumed that this was a problem for only certain parts of the population.
However, in a recent study that was the subject of a PPI Issue Brief distributed at the Willard conference, Kolstad and a colleague analyzed insurance literacy throughout a population of highly-educated, highly-paid professionals in a major corporation.
The study offered employees a simple choice between two types of health insurance policies: a Preferred Provider Organization (PPO) or a High-Deductible Health Plan (HDHP). All the normal corporate and insurer explanatory information was provided for each plan.
The first finding was that the overwhelming majority of employees selected the PPO despite the fact that, according to their actual health care expenditure data, they would have been financially better off in the HDHP.
In a subsequent survey, several thousand employees were asked about the reasoning and factual mechanics of their insurance decision. Sixty-three percent of the respondents could not estimate how much they had spent on health care in the previous year. Sixty-five percent did not understand that the provider networks for both the PPO and HDHP network options were identical.
"Uncertainty was rife in this situation," Kolstad told the Willard audience. "We found very large rates of lack of understanding of what a deductible is, what the level of that deductible is, what co-insurance is, what an out-of-pocket maximum is. These are all relevant to making appropriate decisions, certainly even in a simple case, let alone in a variety of plan options (such as found on the exchanges)."
The national implications of such findings are potentially large.
"Things that happen early on in an exchange's life can be very long-lived if you don't have the associated decision support for consumers," Kolstad continued. "If you have a lot of people who aren't very informed, they may just ask the person next to them what to do and you begin to end up with these herds that may not end up in the right plan."
GRAPPLING WITH DRAMATIC CHANGE
Panelist Mila Kofman, JD, Executive Director of the Washington, D.C. Health Benefit Exchange Authority and a former Superintendent of Insurance in Maine, said there's too little attention being paid to how dramatic a change the new exchange environment is for consumers.
"The context of all this is really important," Kofman said. "Before the ACA in most states we had underwritten markets, so consumers had very little choice. They didn't have to know that much. Or, think about most of us. We've always had job-based coverage where the initial research and decisions were made by experts for us and we just looked at the few options our employer had vetted. Now, consumers are in the driver's seat and have full choice and all options. They have to do that initial research themselves and figure out where to put their dollars and that's very hard."
NARROW NETWORKS
One of the most controversial issues to have risen out of the first round of ACA exchange operations is the rise of plans with narrow networks that limit the options for where an insured person can get medical care.
Researchers point out that such networks are a tool that can play a major role in cost containment but acknowledge that the public dislikes the limitations narrow networks impose.
Starc, who is currently conducting research on exchange plan networks, said "it seems consumers don't necessarily value networks like we think they should. They tend to focus only on certain things -- like a key hospital they think of as a proxy for the quality of the overall network."
Mendelson said the current network structure is hobbled by an inadequate risk adjustment system that needs to be revisited.
"For example, you want to give a health plan a really strong incentive to have an outstanding network for cancer patients or for MS patients and the sickest of the sick," Mendelson said. "I don't think we have that yet.
"We studied whether the major cancer centers were included in health exchange networks nationally and found that, generally, they were not," Mendelson said. "If you think about it from an insurer's perspective, why would you want to attract all of these patients with the most complex cancers into your network unless you thought that it was economically advantageous. And, at this point, it's really not."
AUTO ENROLLMENTS
Panel moderator Heather Howard, JD, Director of the Robert Wood Johnson Foundation State Health Reform Assistance Network, brought up the much-debated issue of insurance exchange automatic renewals. She noted that the federal government is now taking a two-track approach. It is encouraging consumers to help maximize the competitive pressures of the exchanges by shopping aggressively in each year's enrollment cycle. Simultaneously, it is finalizing new rules to auto-enroll do-nothing exchange consumers in the same plan they selected the previous year.
"There's real tension here," said Starc, "You don't want people falling off at the end of the year but at the same time, we're trying to leverage all the benefits we economists see in competition. That relies on consumers who are paying attention to the set of options that are available and making informed choices that reflect their preferences."
Kofman pointed to the realities of her own District of Columbia exchange: "In planning this coming cycle's renewals, we think very few people are going to actually take the active approach and shop. So, we see a lot of passive renewals."
She also noted that this is not a new trend in insurance-related behavior. "When I was Superintendent of Insurance in Maine, we saw similar trends in the Medigap market. Year after year we had seniors paying a whole lot more than they would otherwise be paying because they were risk adverse and didn't mind paying more for what was known and familiar to them."
"So, that's another assumption we're using," Kofman said. "If people had a particular insurance company for a long time, it's very unlikely they're going to make the aggressive switch and really shop year after year. But I hope they do."
~ ~ ~

Hoag Levins is a journalist and editor of digital publications at the Leonard Davis Institute of Health Economics.
blog comments powered by