In the wake of the University of Pennsylvania Health System's
announcement
that it will refuse to hire smokers as of July 1, two groups of Penn academics have taken to the pages of the
New England Journal of Medicine
to debate the topic.
Published late Wednesday in the "Online First" section of NEJM, the dueling articles come as growing numbers of companies of all kinds adopt the smoker non-hiring policies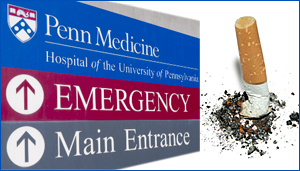 The University of Pennsylvania Health System is the latest in a growing number of medical institutions that refuse to hire tobacco users.
originally pioneered by the Cleveland Clinic in 2007. In a recent article,
The Legal Intelligencer
, the country's oldest daily law journal, estimated that 6,000 companies now refuse to hire tobacco users; many use urine tests for nicotine as a routine part of their applicant evaluation practices.
In their NEJM articles, one group of Penn academics calls the smoker non-hiring policies discriminatory and unethical. The other group, which includes the Penn Health System's CEO as a co-author, argues that the burden of tobacco-related disease is too great to ignore or address through voluntary means any longer.
Neither side mentions the enormous financial costs of treating tobacco-related ailments.
The first NEJM paper, entitled "
The Ethics of Not Hiring Smokers
," is written by Harald Schmidt, a research associate at LDI's Center for Health Incentives and Behavioral Economics (CHIBE); Kristin Voigt, an Assistant Professor in McGill University's Institute for Health and Social Policy and Department of Philosophy; and Ezekiel Emanuel, Penn's Vice Provost for
The article co-authored by Ezekiel Emanuel (right) says not hiring smokers is unethical; the one co-authored by David Asch (left) says stronger measures are needed to combat America's high level of tobacco-driven mortality.
Global Initiatives, Chair of the Department of Medical Ethics and Health Policy, and LDI Senior Fellow.
The counterpoint NEJM paper, entitled "Conflicts and Compromises in Not Hiring Smokers," is authored by David Asch, Executive Director of the Penn Medicine Center for Innovation and Professor at both Penn's Perelman Medical School and the Wharton School; Kevin Volpp, Director of CHIBE and Professor at both the Perelman School and the Wharton School; and Ralph Muller, CEO of the University of Pennsylvania Health System. All three are also LDI Senior Fellows.
The Schmidt/Voigt/Emanuel paper
The Schmidt/Voigt/Emanuel paper begins by noting that 29 states have passed legislation prohibiting employers from refusing to hire job candidates who smoke -- but it makes no mention of the tobacco industry's aggressive efforts to influence state legislatures.
One study of this lobbying activity by the Institute of Health Policy Studies in the Department of Medicine at the University of California, San Francisco, analyzed the activities of the tobacco lobby in the statehouses of New Jersey, Pennsylvania, Ohio, Colorado, California and Washington. Its authors found that "As legislators received more tobacco industry campaign contributions, tobacco policy scores decreased; in other words, legislators were more likely to be pro-tobacco industry as they received
more money... a $1000 contribution was associated with a decrease of 2.5 points in tobacco policy score."
Schmidt/Voigt/Emanuel say, "Smoking is addictive and therefore not completely voluntary" and that "categorically refusing to hire smokers is unethical: it results in a failure to care for people, places an additional burden on already-disadvantaged populations, and preempts interventions that more effectively promote smoking cessation."
They stress that "rates of tobacco use vary markedly among sociodemographic groups, with higher rates in poor and less-educated populations," and point out that no-nicotine hiring policies "disproportionately and unfairly affect groups that are already burdened by high unemployment rates, poor job prospects, and job insecurity."
They argue that smokers should not be denied employment, penalized with higher insurance premiums or stigmatized for their nicotine addiction.
"We believe that offering support for healthy behaviors is the best approach," they write.
The Asch/Volpp/Muller paper
The Asch/Volpp/Muller paper takes a dramatically different view and begins by citing the evidence that tobacco use is the single greatest cause of preventable deaths across the country.
Although they don't use the exact terminology, their article paints a picture of a tobacco-driven public health emergency of extraordinary size. Tobacco consumption, they write, is "responsible for approximately 440,000 deaths each year -- about one death in every five; more deaths than are caused by HIV infection, illegal drug use, alcohol use, motor vehicle injuries,
suicides, and murders combined; and more deaths in a single year than all those among American servicemen during World War II."
They say the increasing willingness of health systems to not hire smokers is a "product of a growing recognition that changing behaviors is hard, that combating addiction is harder, and that behaviors that were once seen as exclusively private often have profound societal effects."
Asch/Volpp/Muller admit that "even though most members of lower socioeconomic classes do not use tobacco, and even though anti-tobacco hiring policies are not intended to reduce jobs for these populations, they are likely to do so inadvertently." They also note "these same disadvantaged populations are at the greatest risk of smoking-related harms and ensuing disparities in health."
In explaining the logic of their arguments, the authors cite the 2007 conceptual "Intervention Ladder" proposed by the United Kingdom's Nuffield Council on Bioethics.
The ladder's eight levels climb from "Do nothing or simply monitor the current situation" to "Eliminate choice: make tobacco use illegal."
In all the years that U.S. health authorities have battled tobacco and tallied up the hundreds of thousands of annual dead, we've only partially ascended that ladder.
The authors argue that current cessation programs and financial penalties in the form of higher insurance premiums for smokers have not worked. Even in aggressive employer incentive programs offering smokers significant financial rewards to quit smoking, a full 91% of all participants failed to stop. In national surveys, 70% of smokers say they want to quit but barely 3% achieve that goal each year.
"We recognize that these (non-hiring) practices are controversial, reflecting a mix of intentions and offering a set of outcomes that may blend bad with the good," Asch and his co-authors write in conclusion. "But given the threats that tobacco presents to our communities and institutions, we believe it's time to climb another rung on the ladder."
~ ~ ~

Hoag Levins is a journalist and managing editor of the LDI Health Economist magazine.
blog comments powered by