Donald Berwick, the Harvard-trained pediatrician who headed the Centers for Medicare & Medicaid Services (CMS) for 17 politically tumultuous months, is exploring a run for Governor of Massachusetts, the state leading the revolution in American health care.
"I'm just tired of the mess you see in our federal system. We're paralyzed and we don't have to be," Berwick told the Association of Health Care
Photo: Hoag Levins
Former Medicare/Medicaid chief Donald Berwick is exploring a run for governor of Massachusetts.
Journalists' (AHCJ) conference in Boston last week. He emphasized the state's huge past and future role in health care reform.
Massachusetts, which launched a universal health care insurance system in 2006, pioneered the concepts that became the template for the national Affordable Care Act. It was initially hoped that reform and broad expansion of insurance coverage would drive down the state's health care spending, but that hasn't happened. The state's costs have consistently ranked among the country's highest.
Last summer, Massachusetts passed a new cost containment law to limit the growth in health care spending to no more than the rate of growth of the state's overall economy. But given the inability of any U.S. government entity to contain health care costs, the likelihood of the law's success is a matter of much debate.
Health care as human right
"I think the states are very exciting and I think there is no state more exciting than Massachusetts right now," Berwick told the national gathering of journalists. "We made health care a human right in 2006. That created problems of course but every solution creates problems and it's going to take intensely dedicated leadership" to finish the job.
He initially announced his intention to explore a gubernatorial run in late January and last week reported putting $100,000 of his own money into that effort.
Current two-term Massachusetts Governor Deval Patrick has announced he will not seek re-election in 2014 and Lt. Gov. Timothy Murray has declined to run for the post.
Berwick, who was driven from federal office in December 2011 by Capitol Hill GOP opposition to his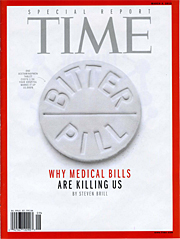 In his presentation, former CMS chief Berwick called Steven Brill's Time magazine "Bitter Pill' piece "one of the most important stories about health care policy published in the last decade." Berwick went on to characterize hospitals' current methods for setting prices as "crazy."
confirmation as CMS administrator, oversaw the launch of the broad series of programs and mandates that began the national implementation of the ACA. Prior to his recess appointment, Berwick was President and CEO of the Institute for Healthcare Improvement for nearly 20 years.
Congressional 'nonsense'
"My experience in Washington was thrilling," Berwick quipped to the crowd. "There was a downside, of course, in the nonsense we saw and a Congress whose approval rating is about seven percent. But it did get me interested in government more than I've ever been."
Berwick, who also holds a master's degree in public policy from Harvard's John F. Kennedy School of Government, was asked, in hindsight, what parts of the Affordable Care Act he would change if he could.
"I would have been harder on transparency," he said. "There were good things in there about opening up data but we didn't go far enough for the kind of health care data sharing that would have helped the whole country turn the lights on faster."
"I would have accelerated the speed of the law's implementation," he continued. "2014 is a long way from 2010 and closing the doughnut hole by 2020 -- well, think about that. I've had many elderly people tell me just how much they will be dead by then."
People of disadvantage
Berwick, who emphasized the ACA was an effort to establish health care as a human right across the country, said the law fails to incorporate a sufficient "seamlessness for people of disadvantage."
"There were mechanisms for making this seamless -- a 'no wrong door experience'," he said, "but they weren't tough enough in my view. And, as we saw the political scene fall apart, we lost the chance to really integrate the enrollment process."
A final frustration he pointed to was the overall budget for the ACA's implementation. "It was about a billion dollars for all the agencies -- CMS, Treasury, IRS, Labor -- the total budget," Berwick said. "That's insane. This is about multiples of that to get the data systems set up at the front end so that we're not paying the price of very inaccurate systems later on. It was shortsighted and a lot like trying to go to the moon with a quarter of the money you probably need to build the rocket."
"The civil servants working on this are very dedicated," Hesaid. "I think they will succeed but they're working in a very, very tough budget environment."
~ ~ ~

Hoag Levins is a journalist and managing editor of the LDI Health Economist magazine.
blog comments powered by